Why Attend Think!Sponsorship?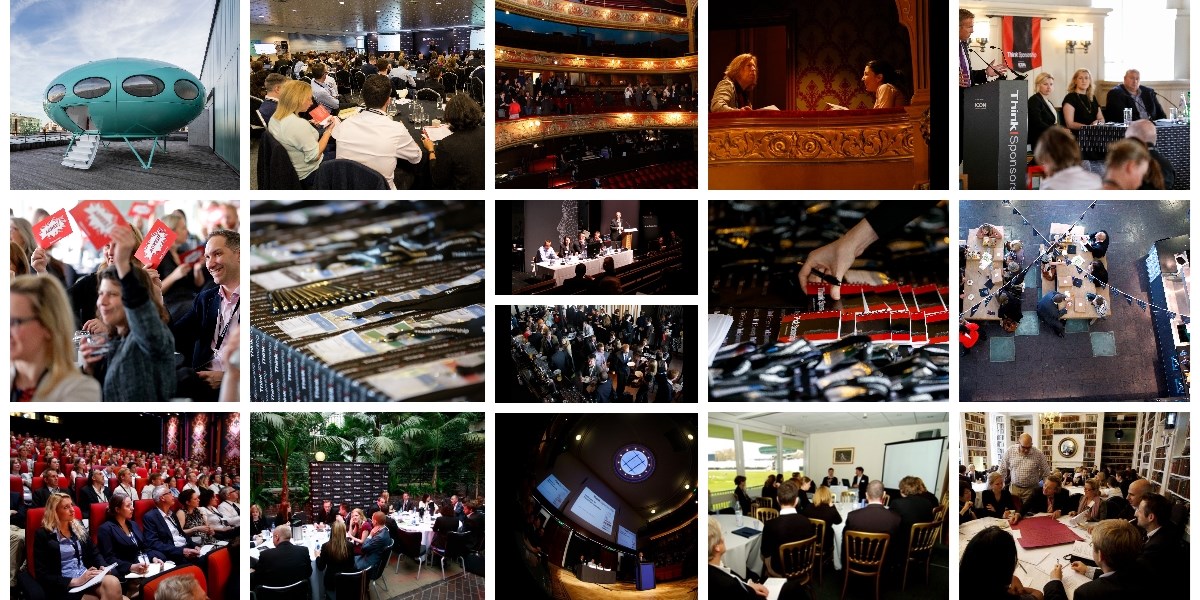 Our mission statement is to provide an affordable and inclusive environment at the conference that enables practitioners from the full spectrum of the industry to attend the event.
We celebrate sponsorship best practice through innovative content and case study exploration. We debate and discuss topical issues through panel and breakout sessions, and we encourage the formation of new connections through structured and informal networking sessions. 
If you're wondering what you can expect by attending the conference, then we hope the following information is useful! 
1.0 Topical and Relevant Content: Our content programme combines key note presentations, case study examples, breakout sessions (that delegates pick based on their own needs), panel discussions, industry briefings and trends updates. We strive to stimulate our audience with the very-best examples of sponsorship in action and select projects and contributors from right across the sector (sport, art, music, charity, entertainment, b2b). Delegates are able to optimise their content experience to ensure it's really relevant and beneficial to their role. To view our upcoming programme for 'Sponsorship: Reworked' - please click here
2.0 Networking: We work REALLY hard to ensure that Think!Sponsorship is an inclusive environment in which business gets done. We use a variety of techniques to ensure that delegates meet new contacts and have the opportunity to catch up with existing networks. We have structured and informal networking sessions throughout the day and encourage delegates to use the event App to arrange meetings pre-event to use their time at the event really effectively. 
3.0 Delegate Diversity: We believe Think! is the only conference in the UK that is truly representative of the full breadth of the sponsorship sector. Our delegates are made up of sponsorship-seekers (40%), marketing & sponsorship agencies (30-35%) and sponsoring businesses (25-30%) From large scale sports properties to smaller seasonal event owners there's something for everyone and our diversity helps to foster an accessible, interesting and friendly environment.
4.0 Affordability: Our partnership programme has helped us to hold ticket prices for the last three years without compromising on the delegate experience. We remain committed to creating and affordable environment that is accessible to a broad range of businesses. We support students by offering a discounted student ticket price to play our part in nurturing future talent. If you are a student and want to apply for a discounted ticket please email info@thinksponsorship.com 
5.0 Interaction & Technology: We support our panel discussions and content sessions by providing delegates with the opportunity to share their opinions and vote on questions in live sessions creating an interaction between speakers, moderator and audience. As a result we are able to provide findings to delegates post event that are truly reflective of the audience opinion.
Our next event takes place on the 18th April 2023 at the Barbican, London. We expect around 200 delegates to attend and conference registration is now open. Tickets are available from £310.00 +VAT (Early Bird Charity Rate) until 7th February 2023.   
To be included on conference updates please email Steph Irwin  at info@thinksponsorship.com
Thank you again for Friday's conference which was excellent. As always a great agenda, and lots of useful insights from the great calibre of speakers. And the technology worked well too - v slick production.

Tanya Rabin, October 2020
The conference was hugely valuable and one of the best presented virtual conferences that I have attended

Sandra Crewe, London Zoo, October 2020
It was really brilliant, full of insightful and relevant content. I have lots of sound-bites that I have been talking to my team about and will also be adding to our new strategy

Sara Bunting, English Heritage (April 2019)
What an educational, professional and fun conference. You should be really proud. I enjoyed it greatly.

Patrick Pierce, Etihad Airlines (April 2018)