Conference Agenda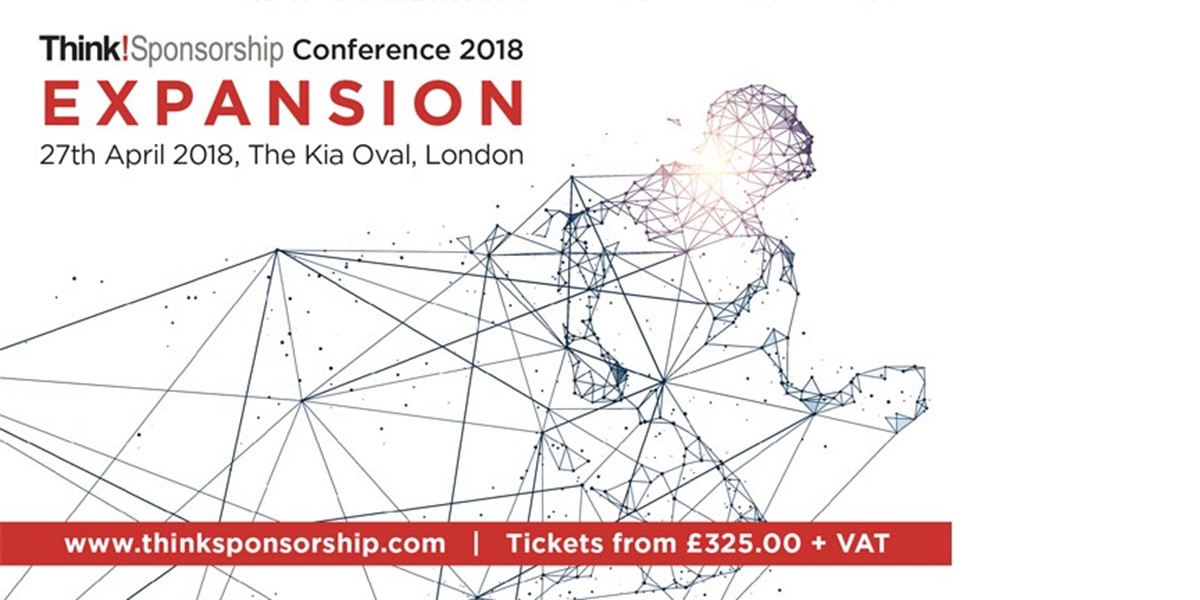 'EXPANSION' - 27TH APRIL 2018 THE KIA OVAL, LONDON
Think!Sponsorship conferences are a rich blend of networking opportunities, idea-sharing, interactive discussion and sponsorship intelligence. The following topics will be under discussion at our next event:
09.45: Opening Remarks and Welcome Address
Catherine Hawkins, Founder, Think!Sponsorship
Richard Gould, CEO, Surrey County Cricket Club/The Kia Oval
09.55: Industry Update —Expansion
'Expansion' considers and compares the enduring popularity of traditional sponsorship platforms and rights with an emerging 'sponsorship new guard' that includes employee engagement, the targeting of micro-communities, the currency of 'experiences', the virtual world and much more.
Exclusive outtakes fresh from the Frontier 2018 survey will kick off the conference, giving attendees an understanding of where and how the industry is evolving and expanding setting the tone for a day of interactive discussion.
Sandra Greer, Insight Director, MKTG
10.05: Group Session: Storytelling Sponsorship
The emergence of non-traditional sponsorship platforms has stimulated a new 'rights economy' centred around content, advocacy, storytelling and engagement. Targeting macro and micro communities alike we explore how Columbia Sportswear and the UK National Parks are redefining partnership and influencing a variety of stakeholder groups with tangible outcomes. This session considers how a five year partnership plan evolves in a fast-paced media and communications landscape to support a variety of objectives ranging from brand preference to retail sales.
Eoin Treacy, Sales & Marketing Manager, Columbia Sportswear & Naomi Conway, Development Director, National Parks UK
10.45: Networking Session: Speed!Sponsorship (includes coffee break)
The Think!Sponsorship conference is founded on the premise that the event should provide an opportunity for delegates to engage, interact and do business with one another. Our Speed!Sponsorship networking session sees delegates 'speed date' their way round their networking table over the coffee break. Delegates are seat-planned based on networking preferences supplied in the build up to the event.
Delegates are booked onto their networking table in advance on the event, based on preferences expressed during the pre-event optimisation process.
11.25: Group Session: Global Reach, Local Touch
Increased globalisation has created a competitive marketplace for a wide range of products and services. Having a global customer base whilst retaining local touch points that engages in relevant and compelling ways is a tough challenge. In this session we look at how sponsorship plays its part in connecting global brands with local customers through their passions and interests.
Patrick Pierce, Vice President, Marketing Partnerships, Etihad (this session will reference Etihad's use of both fashion and sport platforms)
12.05: Breakout One, Two & Three Run Simultaneously. Delegates select the breakout most appropriate to their needs.
Breakout One: Technology Times
Sponsoring businesses have long sort to include product experiences into the platform or opportunity they are associating with. In this first breakout session of the event we look at how this traditional asset has evolved in the advent of technology to allow sponsors to fundamentally enhance and alter the audience/fan experience, becoming an integral part of the experience.
This session will be part presentation, part Q & A and will review innovative partnerships at the Royal Academy including the HTC Vive/Royal Academy partnership 'Virtually Real'and the exhibition project 'From Life'
Michael Eldred, Deputy Head of Development, Royal Academy.
Nick Sharp, Digital Director, Royal Academy
Project: "Virtually Real" - Royal Academy x HTC Vive
Breakout Two: The Power of Purpose
Sponsorship has expanded its ambitions and can now been seen to play a part in delivering societal change. Purposeful partnership of this type delivers on a multitude of objectives to a variety of different stakeholder groups. In this breakout we explore how projects of this type deliver on strategic goals for both the sponsor and the social initiative it is collaborating with, and consider the challenges, opportunities and outcomes of these alignments.
John Scurfield, Head of Sport and Entertainment, EMEA, MediaCom
Project: NHS BT & the MOBO Awards B-Positive Campaign
Breakout Three: Creative Content
The changing communications landscape has paved the way for a new approach to sponsorship's and partnerships where creativity, innovation and engagement is the new standard. In this session, we look at Bridgestone UK's fresh approach to Olympic marketing and how the brand has harnessed the power of an 'always on' multi channel storytelling strategy to drive its brand and business objectives.
Andy Mathias, Manager, Marketing & Communications, Bridgestone North Europe Region & Garry Dods, Managing Director, WeAreFearless. Campaign 'Chase Your Dream, No Matter What'
12.45: Networking Session: Lunch Break
13.45: Group Session: Expanding Assets—Panel Discussion
In our first session after lunch our dynamic panel debate and discuss the evolution of the 'traditional' sponsorship model and discuss emerging marketing trends and their expected impact on sponsorship in terms of how deals are structured and which assets will garner the greatest popularity in the next couple of years.
Owen Hughes, Global Sponsorship, Nissan
Nick Stocker, Strategic Marketing Lead - Global Partnerships, Deloitte
Mike Mainwairing, Head of Sponsorship, Old Mutual Wealth
Elizabeth Llewelyn-Jones, Senior Brand, Partnerships & Events, Orsted UK (DONG Energy)
Ben Walsh, Head of Marketing - UK & Ireland, HTC
14.30: Breakout Four and Five Run Simultaneously. Delegates select the breakout most appropriate to their needs.
Breakout Four: Effective Engagement
Sponsorship has the ability to deliver a unique mechanism for a business to engage with its target audience – whether targeting consumers, businesses or employees. Identifying and maximising opportunities, creating meaningful bespoke engagement campaigns and utilising digital and technology as a delivery mechanism is arguably the holy grail of modern sponsorship. In this session we examine how one business has done just that and created connections with their target audience that has led to measurable positive outcomes
Desirée Clarke Noble, Managing Director, Head of Brand and Marketing, Europe and Asia-Pacific, Co-Chair RWomen Europe, Diversity Council Member, Royal Bank of Canada (RBC) Capital Markets
James Robinson, Group Commercial Director, Limelight
Breakout Five: Internal Inspiration
Employee engagement was hotly tipped as the largest expected growth area of sponsorship in the Frontier 2017 survey. In this session we explore how Morgan Stanley has unlocked a unique set of assets and opportunities to support internal staff and internal objectives through their partnership with the British Museum. We find out how this opportunity came about, what objectives it supports, and what outcomes it has and is expected to deliver in the future. During the Q & A part of this session attendees will have the chance to talk with both Morgan Stanley and the British Museum to understand how this original and unique employee engagement project came to the fore.
Lisa McBreen, Head of Marketing, EMEA, Morgan Stanley
Jenny Suggitt, Head of Corporate Relations, The British Museum
15.10: Networking Session: Tea Break
15.35: Group Session: Sustainable Sponsorship
Partnerships with a positive social outcome have risen to the fore in recent times arguably straddling ground somewhere between corporate responsibility and commercial partnership. This, coupled with internal engagement emerging as one of the fastest growth areas of sponsorship creates a new perspective for the industry. In this session we consider sponsorship's expansion as a tool to engage and inspire employees, alongside acting as a catalyst for social change.
John Sage, Head of Corporate Responsibility, Tideway
Chris Coode, Deputy Chief Executive, Thames 21
16.10: Group Session: Question Time
We review a day of content and summarise key outtakes from the event in this interactive session that will include the Think!Sponsorship raffle.
16.30: Networking Session: Drinks Reception - we invite delegates to enjoy a post-event drink at the conclusion of the conference content programme.
To download a copy of the full programme click here
Thank you so much for such a great event yesterday. I think the diversity of the attendees is excellent and makes for a very friendly and collaborative environment

Sophie Morris, Millharbour Marketing (April 17)
Thank you very much for a superb conference last week. I found every aspect of the day really interesting, useful and took away a lot from it. The event was incredibly well run throughout.

Jeremy Way, Chief Executive, Greenpower Education Trust
I really enjoyed the conference. It had a really lovely feel to it – very friendly and welcoming.

Matthew Leopold, Head of Sponsorship, British Gas
If you're not at Think!Sponsorship....you're not in the loop'

Josie D'arby, Screen Nation
Thanks for pulling together a great conference. It was really interesting and great networking

Lee Dryden, Siemens
I really enjoyed it, I thought it was really well delivered.

Chris Rawlings, Commercial Director, Rugby Football League (RFL)
Just a very quick note to say what a wonderful day it was yesterday – I got so much out of it!

Kate Rhodes, Blue Shadow Marketing
Many thanks for a great Think Sponsorship event. Really interesting event and great networking.

Sarah Neill, Head of Partnerships, London & Partners
It was very good event, I very much enjoyed it!

Harriet McDonald, Head of Sponsorship, Transport for London
It was a great event and it was useful for me in terms of a number of contacts I made.

Jon Walters, Partner, Charles Russell Speechlys LLP
I wanted to drop you a line to congratulate and thank you for pulling together such an inspiring bunch on people on Thursday! I really enjoyed the conference

Hayley Huckin, Wales Millennium Centre
I think very highly of this event. Well organised and well put together

Dan Mathieson, Head of Sponsorship, Barclaycard